The IAconnects: EnOcean + Aruba IoT starter kit offers a simple solution for testing EnOcean wireless sensors with Aruba Wi-Fi access points plus a 3 month MobiusFlow Cloud subscription (an advanced commissioning solution for the 'Internet of Things' from IAconnects) allowing you to connect EnOcean sensors.
Used in conjunction with a separately purchased Aruba access point, this kit from IAconnects allows the integration of EnOcean IoT sensors into existing IT infrastructure, leveraging IT security mechanisms to protect IoT data and services. The addition of MobiusFlow allows the processing of data at the edge, data visualisation and the option to send data into 3rd party platforms and applications.
The kit comprises:
• EnOcean dongle (USB 300)
• EnOcean energy harvesting switch
• EnOcean energy harvesting multisensor (temperature, humidity, lux levels, acceleration/orientation)
• 3 months MobiusFlow* Cloud subscription (up to 20 sensors connected)**
A typical set up shown below can incorporate door / window sensors, people counters, vibration monitoring, energy consumption, light levels, air quality, lighting control and many more devices.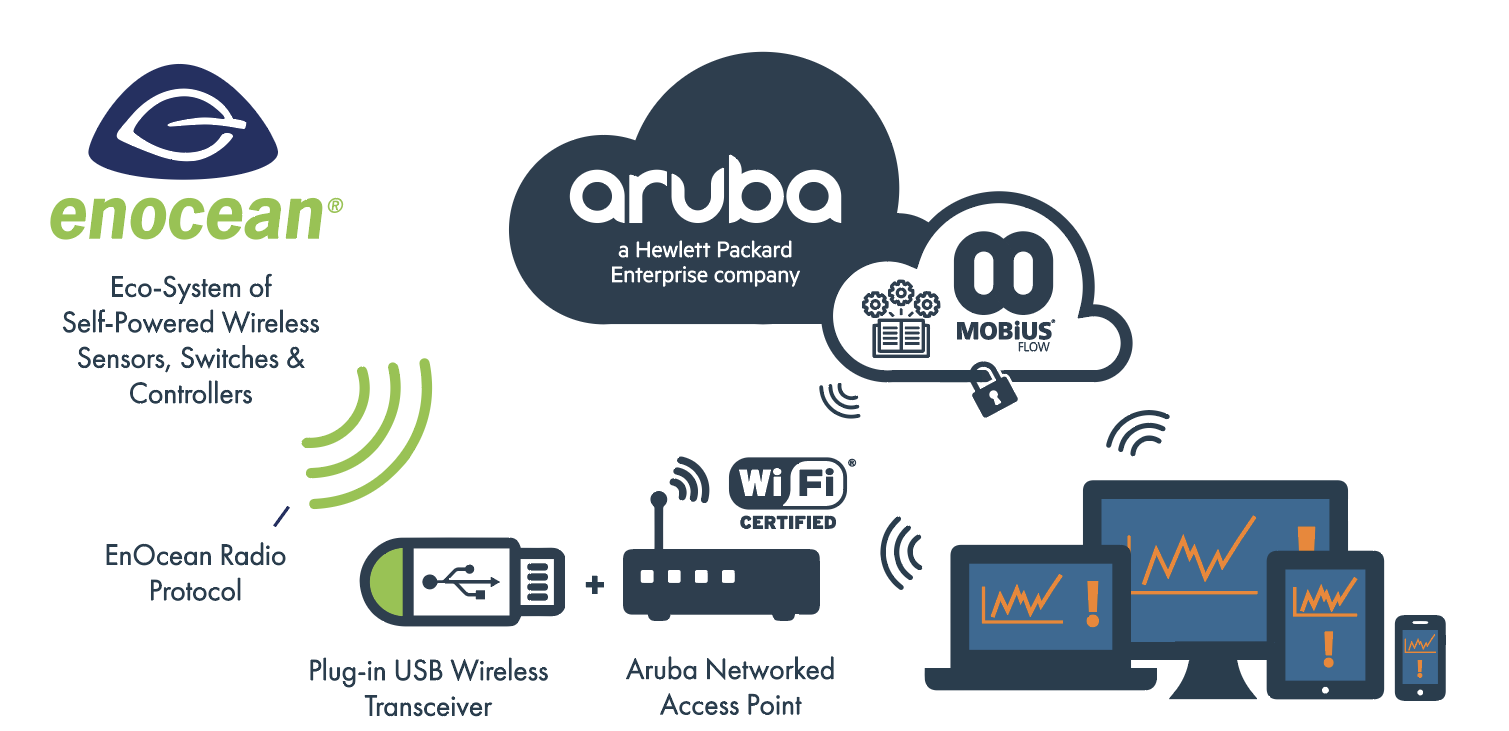 The MobiusFlow ecosystem evolves based on customer requirements and runs a library of standard and customer specific code (or nodes) to allow connectivity of an ever increasing number of sensors, control systems, heating, ventilation and Air Conditioning (HVAC), lighting, office work flows (including people sensors and door entry systems), retail outlets and manufacturing monitoring equipment to name but a few.
*MobiusFlow is an IoT Edge Platform developed over the past 15 years by IAconnects Technology Ltd (iaconnects) to allow non-manufacturer specific connectivity of the internet of things (IoT) to the cloud or local computers. It can work in the cloud, on closed secure networks, WiFi based systems or utilise its own data connection (3G/4G) when used in conjunction with IA's custom hardware.
**Unlimited sensors can be connected outside of demo instance.